Description
4K PRO UHD
Experience a new type of 4K home theatre projection technology from Epson with proprietary dedicated processors for resolution enhancement1, HDR, and image processing. 4K PRO-UHD home theatre projectors faithfully display all your favourite content from the classics to the latest blockbusters. This isn't just a new way to watch movies — it's the best way.
1 4K Enhancement Technology (4Ke) shifts each pixel diagonally to double Full HD (1920×1080) resolution. Resolution is Full HD in 3D Mode.

3LCD Technology
All Epson projectors are based on 3-chip LCD technology for amazing colour, incredible detail and solid reliability. 3LCD's 3-chip architecture dedicates an entire chip to process each primary colour – red, green and blue, continuously. Unlike single-chip technology that delivers colour sequentially, you get full-time colour. The result is vibrant, realistic images and video all delivered with 3LCD's true-to-life colour.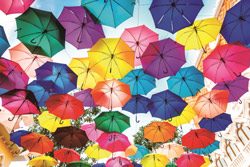 Amazing colour brightness with Epson
Brilliant image quality requires high colour brightness (colour light output). EH-TW8400, powered by 3LCD technology, is capable of producing White Light and Colour Light Output of 2,600 lumens in 4K enhancement resolution, delivering amazing colour brightness.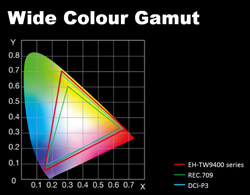 Enjoy brilliant, colour-rich performance. DCI-P3 which is the standard in digital cinema is available in the EH-TW8400, displaying 100% of the colour gamut. This extreme colour performance of DCI-P3 is 50% wider than typical 1-Chip Rec.709 projectors and allows for a truly professional-level of colour accuracy.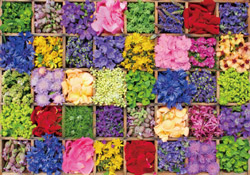 Dedicated 4K Enhancement Processor
Advanced 4K enhancement hardware precisely controls three-individual high-definition LCD chips to parallel process up to 12 million pixels of information. This new type of resolution enhancement technology results in a 4K visual experience – surpassing other forms of 4K home theatre projection.
A High Dynamic Range expands the range of colour and contrast that can be reached, resulting in a more realistic and natural image. Epson's full 10-bit HDR colour processing accepts 100% of the HDR source information to faithfully reproduce HDR content for exceptional visual performance.