Description
Powerful, high brightness, uncompromising image quality and reliability for large venues
3LCD TechnologyAll Epson projectors are based on 3-chip LCD technology for amazing colour, incredible detail and solid reliability. 3LCD's 3-chip architecture dedicates an entire chip to process each primary colour – red, green and blue, continuously. Unlike single-chip technology that delivers colour sequentially, you get full-time colour. The result is vibrant, realistic images and video all delivered with 3LCD's true-to-life colour.

3x Brighter Colours with Epson*Brilliant image quality requires high colour brightness (colour light output), and Epson® 3LCD projectors have 3x Brighter Colours than leading competitive projectors*.
One brightness measurement (lumens) is not enough. A projector's specification needs to show both high colour brightness and high white brightness. If colour brightness is lower than white brightness, images may be dark, dull and lose detail. If not be sure to ask for a projector's colour brightness specification.
* Colour brightness(colour light output) in brightest mode, measured by a third-party lab in accordance with IDMS 15.4. Colour brightness will vary depending on usage conditions. Top-selling Epson 3LCD projectors versus top-selling 1-chip DLP projectors based on NPD sales data for May 2017 – April 2018.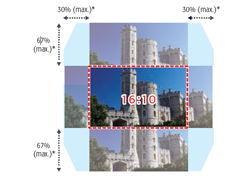 Powered Lens Shift, Zoom and FocusThe motorised lens shift covers a wide range, giving you a great deal of flexibility when installing the projector. A newly adopted stepping motor lets you make highly precise adjustments when employing edge blending, stacking and other techniques. Adjustments can be made via remote control or over a network, enhancing usability even for ceiling-mounted projectors.
Lens Position MemoryUp to 10 settings can be stored in the projector memory, including shift positions, focus and projection sizes.
Incredible HDBaseT and diverse connectivity
Connect with virtually any system including HDBaseT, HD-SDI, HDMI, DisplayPort, VGA, BNC and LAN connectivity. Cutting-edge HDBaseT technology means just one single CAT-5/6 cable carries Full HD video, audio, network and control commands.
With over 100 metres Range to accommodate large venues. No need for additional cables, signal repeaters or added labour.
Ten optional lenses
For added flexibility, the G Series offers a total of ten lenses, including middle, wide, long, short and ultra-short throw that allow users to choose the lens most suited for their environment. A quick-release lever allows for a fast, easy lens exchange.
Please Note: This projector does not come with a lens- Please See our lense page for options.