Description
Introducing Blackmagic Video Assist 12G HDR
The new Blackmagic Video Assist 12G HDR adds professional monitoring and recording to any SDI or HDMI camera in all HD, Ultra HD, 2K, and 4K DCI formats! The whole new design includes innovations such as brighter screens for HDR work, tally indicator, 4 built-in scopes, enhanced focus assist features, 3D LUTs and native Blackmagic RAW recording from supported cameras! With 12G-SDI and HDMI 2.0 on both 5″ and 7″ models, you get support for recording from virtually any device in all formats up to 2160p60. The brighter touch screen ensures a perfect view of your recording for HDR digital film and when shooting outdoors in sunlight. The new design also features upgraded batteries and supports two standard Sony L‑Series batteries. This means Blackmagic Video Assist 12G is incredibly versatile and is the perfect solution for the next generation of digital cinema shoots, live production mastering and, broadcast testing and measurement!
Video Assist features a wide range of video and audio connections such as multi‑rate 12G‑SDI for SD, HD, and Ultra HD SDI devices. HDMI is included for HDMI cameras and monitoring to consumer televisions and video projectors. The USB‑C connection lets you plug in flash disks or disk arrays for recording, allowing extremely long record durations and because you're recording to a media disk, you can edit directly from this disk after the shoot, eliminating extra file copying work. Video Assist even includes a 12V DC power connection with a locking power connector.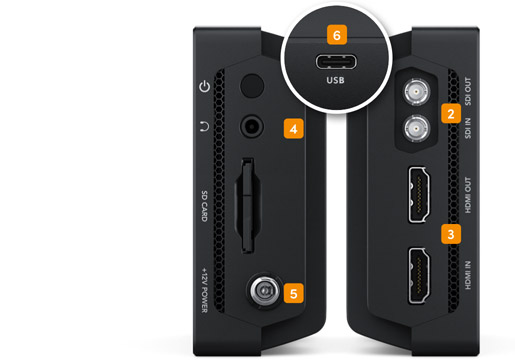 Blackmagic Video Assist 5" 12G HDR
5.
+12V External Power Connection
6.
USB‑C Expansion Port (on base)
Dual Media Recorders for Uninterrupted Recording
Video Assist uses commonly available SD card media, so you can record to flash memory cards that are easy to obtain. The files are small enough to allow long recordings on standard SD cards or the faster UHS-II cards. The larger Video Assist 12G 7″ model even includes 2 SD card slots so you can swap out any full cards even during recording, allowing infinite length recording. Standard SD cards or the faster UHS-II cards are perfect for broadcast because they are small, high speed and affordable.
Record
Direct to External USB‑C Media Disks
If recording to other media types is required, then the USB‑C Expansion port lets you plug in an external flash disk for recording. USB‑C flash disks have massive capacity as they don't suffer from any size constraint. Plus, it's possible to record to the same disk you are using or editing, so you don't need to waste time copying files before starting post-production. Flash disks are so fast they can record high data rate formats that are too big for some lower-cost media cards, such as high frame rate Ultra HD. Imagine adding a Blackmagic MultiDock 10G for easy SSD compatibility with other recorders such as Blackmagic HyperDeck models. You even get on-screen menus for managing external disks using the touch screen!